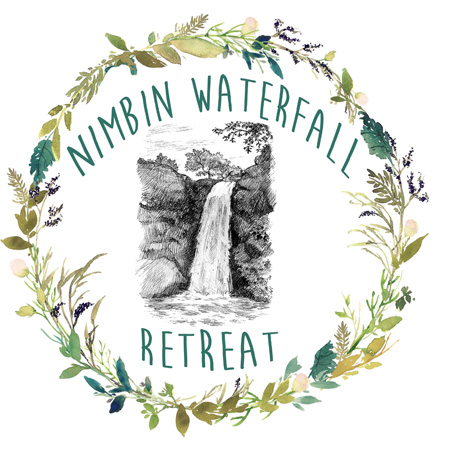 Nimbin Waterfall Retreat
Situated:
14 Weismantle Rd
Nimbin NSW 2480
5 minutes drive from the popular tourist town of Nimbin
1hr 10 minutes from the famous Byron Bay
1 and a half hours from the Gold Coast and airport
2 hours from Brisbane.
Your Accommodation at Nimbin Waterfall Retreat
The retreat is set on 29 acres with a 35 ft waterfall on the property. There are:
Macadamia trees and numerous Fruit trees and Bamboo.
Horses, Kangaroos, Wallabies, Bilbies and numerous wildlife set in a peaceful surround with magical views.
The cabin has just been completed and has:
One bedroom,
Large new bathroom,
Large living area with new kitchen, queen daybed and fold down sofa, so can sleep 4 comfortably, plus a sofa bed at extra cost of $50.00 for 5th person ,
A verandah with breath taking views
Nimbin waterfall retreat will also be holding wellness campout and information workshops on health, well being and natural cures for disease.
Your accommodation at Nimbin Waterfall Retreat is located in the Northern Rivers region. The Northern Rivers has many beautiful places to see and things to do. Local Attractions.
Call Theresa on 0415451640 to book your relaxing and peaceful getaway or click Bookings.
Reviews
Nathan Low
Theresa's place is bloody awesome. That waterfall is spectacular. Theresa is very welcoming and hospitable. Highly recommended.
Sara Mitchell
Theresa takes great care and pride in maintaining her lovely property. The view from the porch was even more beautiful than we expected. Watching the sunrise and sunset come over the mountains from the comfort of the hammock was amazing. We liked taking little walks around the property and to the waterfall which was about 5 minutes away. She had a little outdoor fire pit for us the use on the cold nights. Theresa made us homemade chocolates and tea (both delicious) and gave us some fresh fruit picked from the trees on her property. She gave us lots of privacy and let us do our own thing but wasn't far if we needed help. Bed was very comfortable and soft. Nimbin was only a 5 min drive but we felt like we were out in the middle of nowhere - the stars were unbelievable at night. 5/5 would recommend!
Stacey Watson
This property and hosts were beyond our expectations. Theresa went out of her way to see to our needs our entire two-week stay. Theresa even prepared a lovely welcome basket with champagne and goodies the day of our arrival. The bungalow is newly renovated and sits in a beautiful scenic landscape with a view of a pond and the resident horses. We enjoyed an occasional visit from the resident Wallaby couple and their joey. We especially loved the relaxing veranda and its small hammock and sitting table. The house was clean and well-equiped with basic cooking necessities. I would highly recommend the bonfire experience--my family really enjoyed Theresa's musical talents. The next time I travel from America to Nimbin, I hope to book this property again.
Kylie Burgess
A wonderful place to stay with lovely hosts. Beautiful surroundings and lovely and comfortable accomodation, with beautiful views. Would highly recommend for a tranquil break away. And thank you so much to Theresa for keeping our booking as we were the first to ask for the easter weekend, before booking online. The horses are extremely friendly as well, and the waterfall amazing.